Wholesale patches are an affordable way to represent your organization, an awareness campaign, or just for fun! Because they can be purchased at such a great price, they are also perfect for fundraisers where you can retain a generous profit. Patches are also an attractive way to advertise or make a fashion statement.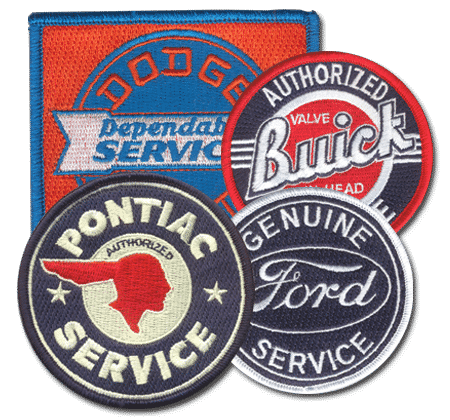 Wholesale Patches at Great Prices!
Ordering in Bulk gives you the best value for your budget!
Wholesale Patches have many different Uses
Wholesale patches are also a great way to supply to a large group such as a Girl or Boy Scouts, a gift with purchase item such as a backpack or video game, or to sell or hand out at a charity event, race, swim meet, etc.! They also make for great memory pieces. Schools love to purchase wholesale patches to sell to their graduating classes, and students love to buy them!
Our Patch Designers are Here to Help with your Wholesale Order!
With so many different options available, the process of designing patches can be daunting. We employ a staff of over 20 designers that are happy to help you create a design for your patch order. Even if you just have a basic idea of what you are looking for, our designers will create and edit the digital proof we email to you until you are satisfied and ready for your wholesale patches to be manufactured. They can also answer any other questions you may have about manufacturing, backing, thread types and colors, and so on.
High Quality Threads means a High Quality Wholesale Patches
The thread we work with is of very high quality and our edge-binding techniques used keep the thread from fraying or coming loose over time. We work with a specific color palette when creating your patches because they are rich and strong, and very professional looking. We also offer metallic thread, which when added to a design, really makes the strong color palette "pop".
Call us today or click on the free quote button below to get started on your wholesale patches order!
Contact Information
If you would like to contact us please use the information below and we will be happy to help you.
"The patches arrived last night. They are perfect! Thank you so much for all your assistance and advice. I know our members will be very pleased with the result."
"Thank you! Patches came yesterday, just as promised! They are so cute! Great job! You guys are wonderful! Thank you and happy holidays!"
"I got both the patches today, and I am super pleased!! The whole experience was positive, you gave a great product, with insanely superb customer service, and all with super fast shipping, I'll definitely be ordering more patches very soon, such a pleasure to find an online service where everything exceeds expectations, you will be hearing from me in the near future on the other projects I have in mind."