Soccer patches are a must-have for anyone playing or participating in the sport! Nothing matches the feeling of team spirit, and showing your support by wearing your favorite team's patch will make both you and the team feel special! Whether a small or large order, you will be saving money when you order from Patches-on-Sale.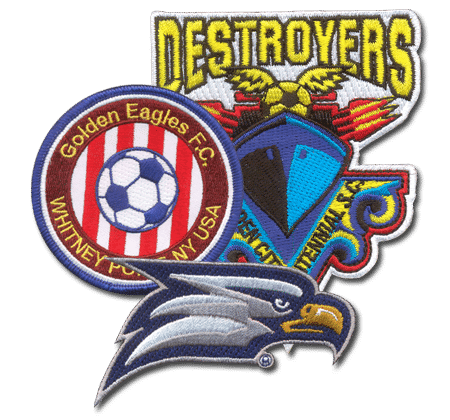 Need Soccer Patches for the Upcoming Season?
Soccer Season is around the corner. Order your team's uniform patches today from Patches-on-Sale!
Show Your Team Pride with Soccer Patches!
These patches are especially important for youth leagues where kids not only like to show team pride by wearing patches on their uniform, but also on backpacks, jackets, and more! Patches can also be used as a reward and for motivation to your students. A great example would be if the team made it to the playoffs. Displaying a patch on their uniform showing their accomplishment would bring great pride to the team!
Save Money on Every Size Soccer Patch Order
Whether a small or large order, you will be saving money when you order from Patches-on-Sale. We are happy to manufacture a standard patch such as a smiley face or a star for you just as much as we are to create a completely custom patch for you and your team members. The process for either is efficient and of extremely high quality. We use threads high in color saturation and a specific color palette that we know through many years of experience is effective in making a patch really stand out from the rest! We also have metallic threads to make your design "pop"!
Excellent Service and Quality Soccer Patches
Patches-on-Sale offers a fast turn-around, excellent customer service and superior design quality. We have a talented design team of over 20 employees who look forward to working with you and creating the design you have in mind.
Call us today and let's begin working on your soccer patches order!
Contact Information
If you would like to contact us please use the information below and we will be happy to help you.
"The patches arrived last night. They are perfect! Thank you so much for all your assistance and advice. I know our members will be very pleased with the result."
"Thank you! Patches came yesterday, just as promised! They are so cute! Great job! You guys are wonderful! Thank you and happy holidays!"
"I got both the patches today, and I am super pleased!! The whole experience was positive, you gave a great product, with insanely superb customer service, and all with super fast shipping, I'll definitely be ordering more patches very soon, such a pleasure to find an online service where everything exceeds expectations, you will be hearing from me in the near future on the other projects I have in mind."