Police Department Patches
Police department patches are special in that they are worn every day on the uniforms of courageous men and women of police departments from around the country! Our patches are fully customized to match your department, which includes graphics and text.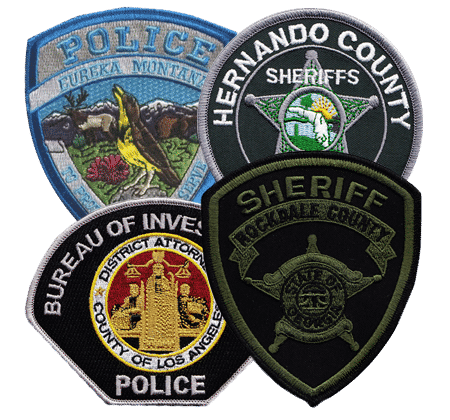 Need Police Department Patches In a Hurry?
Patches-on-Sale offers Police Department Patches delivered to Your Door in just 14 Days
Police Department Patches created just for Your Department!
We use a technique that seals the borders of any non-standard shaped patches, so no matter what you want the shape of your police department patches to be, we can make them for you! This technique also keeps the threads from fraying at the edges so you can be sure that your patches will look crisp, clean, and professional. We offer complete customization and can accommodate your department with any design you choose.
Excellent Quality Police Department Patches at Low Prices
We never sacrifice quality for price! Some patch manufacturers are able to offer low and discounted prices because they use threads that are low quality and that may only last a short period of time. With all Patches-on-Sale purchases you will receive sturdy patches with impressive, vibrant embroidery that will last you for years to come! Show pride in your department with exceptional quality police department patches from Patches-on-Sale!
Borders and Backgrounds Perfect for Your Police Department Patches
At Patches-on-Sale we offer a variety of background and border options for your patches. They come standard with a durable plastic backing so that they never lose their shape, even with age. The most popular option for police department patches is the sew-on patch. This allows the patch to be sewn directly onto the garment of choice. We also offer iron-on backing and Velcro if you prefer.
We look forward to working with you! Give or friendly and knowledgeable staff a call today to get started on your custom police department patches!
Contact Information
If you would like to contact us please use the information below and we will be happy to help you.
"The patches arrived last night. They are perfect! Thank you so much for all your assistance and advice. I know our members will be very pleased with the result."
"Thank you! Patches came yesterday, just as promised! They are so cute! Great job! You guys are wonderful! Thank you and happy holidays!"
"I got both the patches today, and I am super pleased!! The whole experience was positive, you gave a great product, with insanely superb customer service, and all with super fast shipping, I'll definitely be ordering more patches very soon, such a pleasure to find an online service where everything exceeds expectations, you will be hearing from me in the near future on the other projects I have in mind."