If you are looking for a standard patch such as the American flag, save by buying in bulk with Patches-on-Sale! We guarantee that you will not only love the price, but that you will enjoy the quality of the patches you receive as well! We also design custom patches so that you can enjoy seeing your own creation displayed proudly on your garments.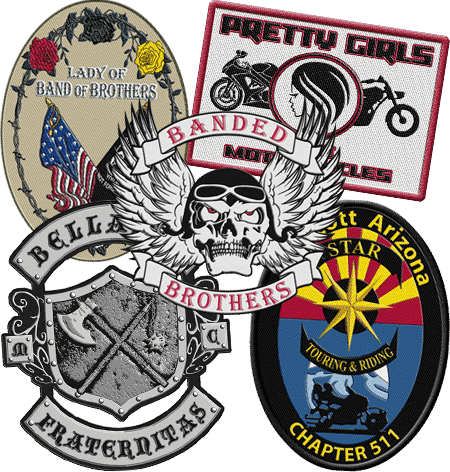 Need Biker Patches In a Hurry?
Patches-on-Sale offers Biker Patches delivered to Your Door in just 14 Days!
Show Your Pride with Biker Patches
Biker patches are commonly displayed on vests and jackets and show the world your riding pride! We want your patches to be as special and unique as your members, and we look forward to speaking with you to get your ideas on the perfect patch. Whether revising a current image or creating an entirely new one, we work with you by phone and/or email and will send digital proofs of your patch to you before it goes into productions so you can be sure that you will receive exactly what you are looking for.
Get Creative With Your Biker Patch Designs
We welcome any border you would like to see on your biker patches. If you want to get creative and use a shape other than a circle, square, triangle, or any other smooth and symmetrical shape, we can bind the borders in a way that will keep the threads from fraying. If you decide to go with a standard shape your border will be perfectly wrapped which will add structure and strength without compromising your design.
Biker Patches with Colors that "Pop"!
We use a set color palette when creating patches because they have proven to be the colors that stand out the most. Our threads have high color saturation and are of optimum quality so that your biker patches will last for years to come! We also carry metallic threads which create dimension and depth to your design.
Call us today and let us work with you to create your custom biker patches!
Contact Information
If you would like to contact us please use the information below and we will be happy to help you.
"The patches arrived last night. They are perfect! Thank you so much for all your assistance and advice. I know our members will be very pleased with the result."
"Thank you! Patches came yesterday, just as promised! They are so cute! Great job! You guys are wonderful! Thank you and happy holidays!"
"I got both the patches today, and I am super pleased!! The whole experience was positive, you gave a great product, with insanely superb customer service, and all with super fast shipping, I'll definitely be ordering more patches very soon, such a pleasure to find an online service where everything exceeds expectations, you will be hearing from me in the near future on the other projects I have in mind."