Custom Embroidered Patches
Custom embroidered patches are special because they are uniquely yours! Embroidery gives the design on a patch richness and depth allowing the image to "come alive"! No matter what you need your patches for, they are sure to impress.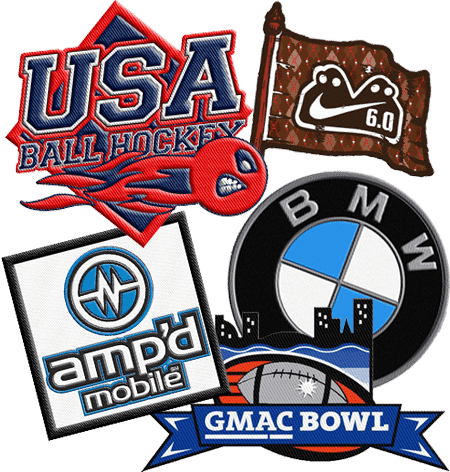 Need Custom Embroidered Patches in a Hurry?
Patches-on-Sale offers Patches delivered to Your Door in just 14 Days!
Custom Embroidered Patches created Just for You!
Many of our clients order custom embroidered patches for graduating classes of students, fundraisers, to represent their organization, as a commemorative item for employees who have reached a certain milestone, sports teams, and the list goes on! We offer a full design service too! Whether you have a fully designed image or just an idea of what you are looking for, we can make it into the embroidered patches you have in mind.
Excellent Quality Custom Embroidered at Low Prices
Some companies use low quality thread and manufacturing processes to get you a low price. We are able to offer you affordable merchandise without sacrificing quality, because we use excellent quality threads and a specific color palette that we know will make your design "pop"! We also use metallic threads to add optimal dimension to your patches.
Borders and Backgrounds Perfect for Your Custom Embroidered Patches
We strive to provide excellent service and complete customer satisfaction. Patches-on-Sale also offers different backing and border options to allow for design flexibility. Tired of seeing square, triangle, and circle patches and want something a little different? We have the ability to make those for you while sealing them in a way that keeps the threads from fraying. Looking for a standard patch shape? Thoroughly embroidered edges will add structure and strength to your patch without compromising your design.
We are excited to see what design you have in mind! Call us today, and let's get started on your custom embroidered patches!
Contact Information
If you would like to contact us please use the information below and we will be happy to help you.
"The patches arrived last night. They are perfect! Thank you so much for all your assistance and advice. I know our members will be very pleased with the result."
"Thank you! Patches came yesterday, just as promised! They are so cute! Great job! You guys are wonderful! Thank you and happy holidays!"
"I got both the patches today, and I am super pleased!! The whole experience was positive, you gave a great product, with insanely superb customer service, and all with super fast shipping, I'll definitely be ordering more patches very soon, such a pleasure to find an online service where everything exceeds expectations, you will be hearing from me in the near future on the other projects I have in mind."